DIVISIONAL PLAYOFFS – SUNDAY
By: Gigi w/help from Eric
Sunday, January 13, 2013 – 1:00 pm ET

TV: FOX

| Avg. Yds (Rk) | Category | Avg. Yds (Rk) |
| --- | --- | --- |
| 189.4 (27th) | Pass Off. | 281.8 (6th) |
| 161.2 (3rd) | Rush Off. | 87.3 (29th) |
| 203.1 (6th) | Pass Def. | 242.4 (23rd) |
| 103.1 (10th) | Rush Def. | 123.2 (20th) |

Georgia Dome

Atlanta, Ga. Sprinkles. Overcast. Mild. 68 °F, Wind: 10.94 mph/S
Can Matt Ryan and Mike Smith finally win their first playoff game?  They are 0-3 so far.  Can the Seahawks travel to the east coast for the second week in a row and win a playoff game on the road?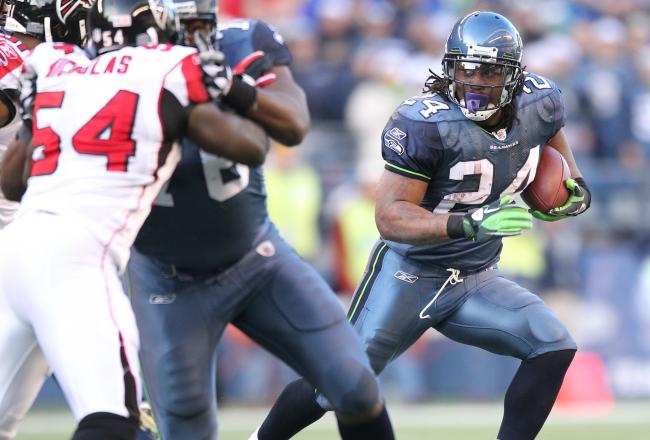 Matt Ryan vs. the Seahawks' secondary: It isn't so much the impressive statistics that should strike fear in quarterbacks, but rather the way in which Seattle's cornerbacks play. The Seahawks boast a tough, aggressive bunch, led by Richard Sherman, that will smother and bully opponents. That being said, the Falcons have their share of great offensive weapons, making this an intriguing matchup. Atlanta would be wise to cue up film of the first quarter of last Sunday's NFC Wild Card Game, when the Washington Redskins seemed to find a way, through very aggressive play at the line of scrimmage, to get under the Seahawks' skin, albeit temporarily.
The Falcons have concluded each of their last five seasons with a winning record. … Ryan has never lost back-to-back home games in college or the NFL. Because he lost at home in Week 17 of the regular season, a loss Sunday would mark the first time he's lost two in a row on a friendly field. … Wilson is trying to become just the fifth rookie quarterback in NFL history to advance to a conference championship. He'd be the first rookie to ever play in a Super Bowl, if he made it that far. … Last week, Wilson became the third rookie QB in NFL history to win a playoff game after trailing at halftime. … Sherman had eight interceptions (tied for second in NFL), three forced fumbles and one fumble recovery during the regular season — but he didn't record any stats against the Redskins.
Sunday, January 13, 2013 – 4:30 pm ET

| Avg. Yds (Rk) | Category | Avg. Yds (Rk) |
| --- | --- | --- |
| 239.4 (11th) | Pass Off. | 291.4 (4th) |
| 132.7 (8th) | Rush Off. | 136.5 (7th) |
| 225.8 (16th) | Pass Def. | 271.4 (29th) |
| 97.5 (7th) | Rush Def. | 101.9 (9th) |

Gillette Stadium

Foxborough, Mass. More sun than clouds. Cool. 51 °F, Wind: 8.48 mph/SW
Can Houston show they are not frauds?   Tom Brady & the Pats are 7-6 in their last 13 playoff games – notice a dropoff in playoff victories for the Cheatriots since Spygate.
Patriots TE Rob Gronkowski vs. Texans S Glover Quin: Houston plays plenty of man coverage. One AFC pro scout said he expects Quin to be on Gronk, and fellow safety Danieal Manning to be on Aaron Hernandez — and that "both should be mismatches for the Pats." The former matchup is the more important one, because of Gronk's red-zone prowess and Houston's need to force field goals and prevent touchdowns.
Since Week 14, Schaub has thrown just one touchdown pass, fewer than Washington Redskins quarterback Kirk Cousins (three) and the Oakland Raiders' Terrelle Pryor (two) managed in that span, and the same number produced by the New York Jets' Mark Sanchez. … Patriots coach Bill Belichick has as many career postseason wins (17) as Joe Gibbs, tied for third all-time; if New England reaches the Super Bowl, Belichick will tie Don Shula (19) for second; if the Pats win the title, he'll tie Tom Landry (20) for first.
550 comments on "
DIVISIONAL PLAYOFFS – SUNDAY

"